As a part of my Outreachy internship, and with the help of the CNCF through Diverse Scholarship, I attended KubeCon & CloudNativeCon in Barcelona a few days ago. This was an amazing experience for me, and I'd like to share my thoughts about it.
First of all, I didn't expect the conference to be so big. There were around 7.700 people there!. I was really surprised by how big the Kubernetes community is, even in the pre-conference day there was a lot of people in the Contributor Summit.
People
I had the opportunity to meet in person my Outreachy mentor Juraci Paixão Kröhling! It was really nice to talk to him, share opinions about the next steps of the community and how to keep involved. I told him about my wish to be an Outreachy mentor someday!
Also, he gave me good pieces of advice about speaking, how to manage nerves, and other tips for my talk.
Also, I made new friends! I met Annanay, and Louis, both Jaeger Tracing contributors. In fact, Louis talked about the experience of Ticketmaster using Jaeger.
Also, I met in person the creator of the community-loved learning platform Katacoda, Ben Hall, with whom I am working since May. One fun fact about Katacoda is that I did my firsts steps during my Outreachy internship with the Opentracing tutorials hosted there. What a small world! 🙂
The best talk
If there were an award to the best talk in the whole conference, I am sure the Nikhita and Lucas's Keynote would win this award. I loved the message that they gave about the importance of community.
Observability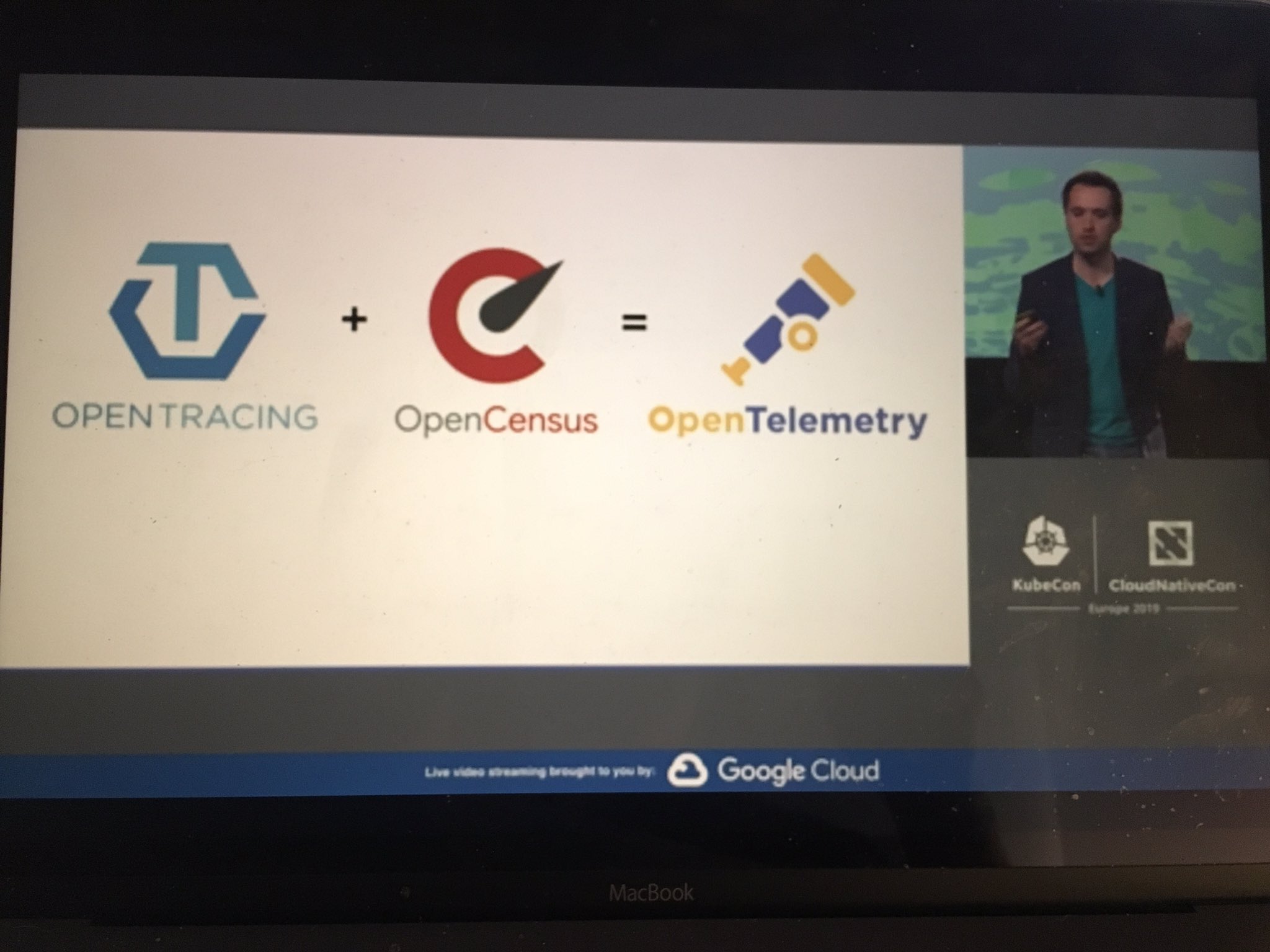 In the event, they also announced the merging of OpenTracing and OpenCensus into OpenTelemetry, that aims to become a built-in feature of cloud-native software.
I found the talks related to observability connected in the same idea: correlate the pillars and aggregate the data to provide useful information about what's happening in the applications.
We have all the data now (log, metrics, traces), but the community is working to put this information together and digest it, to facilitate the understanding of the root cause of the problems and correlate the information with the three pillars of observability. Tom Wilkie & Frederic Branczyk in their talk What Does the Future Hold for Observability? address that.
In the same train of thought, Daniela Miao talked about Trace Aggregates, and mentioned:
The data collected is just raw data, without processing, without further analysis, you can not get useful insights into your system.
My talk
I did my talk the Wednesday 22. In my talk, I presented the results of benchmark tests that we performed during my internship to understand the overhead of using instrumentation.
I was nervous because this was my first talk ever, in front of many people, and speaking in a language that is not my native one (which I'm still working to improve).
I could go through the talk and finish it, and I'm happy with that! 🙂
I have a lot to improve on my fluency in English, the way of speaking, and dealing better with the questions, but I'm hopeful that I'll be better the next time.
For me, the better part of my talk was the honest, constructive feedback that I received from people.  I remember one person from DataDog (I'm really bad with names) that recommended me another way to process the data of the benchmarks, and the pieces of advice that Isobel Redelmeir gave me about how to present to the audience a way that they can follow the talk. She also gave me the feedback that there is an opportunity to turn this work a large project with OpenTelemetry.
Final thoughts
I remember when I started my Outreachy Internship I knew about the Travel Stipend, but I thought about it as a help to only assist to a conference. I never imagined that I'll be doing a talk in front of so many people in English, and this is a merit of my mentor, he encouraged me in every little baby step, first, he planted the idea in my head, then he helped me reviewing the CFP, suggested me to apply to diverse scholarship, etc.
I pushed my boundaries, I grew up a lot with this step, and I'm so grateful to have met people in the conference who with a word of encouragement or advice help me to keep improving myself.